Online Event
The Capital City Plant-Powered Challenge
Monday, March 1 - Monday, March 29, 2021, 5:30-6:30 p.m. ET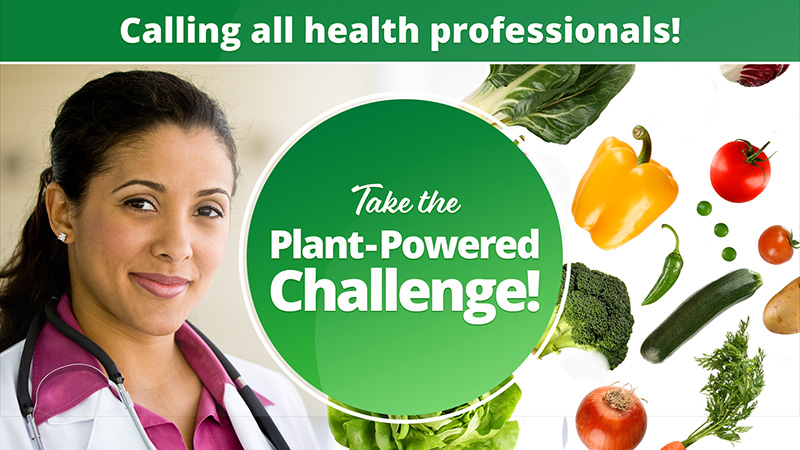 Calling all health professionals! Are you curious about how a plant-based diet can significantly improve weight, blood pressure, high cholesterol, and more? It's time to take the Plant-Powered Challenge so that you can attest to the benefits of eating plant-based foods and begin to incorporate it into your patient care.
Join expert doctors who will guide you with practical tips and easy to prepare recipes as you try a delicious, plant-powered meal plan. The challenge includes live, weekly classes via Zoom and will feature cooking demos, engaging nutrition presentations, success stories, real-life examples of clinicians effectively talking with their patients about nutrition, and Q&A. Recordings will also be provided to registrants. 
Now is not the time to wait! Sign up today to get access to featured recipes and educational resources before the challenge begins. Recruit colleagues and other health care professionals to join you! 
The series will be taught by cooking instructor, Asha Subramanian, MD, MPH and other doctor co-hosts who are experts at putting plants on plates.

Class itinerary:  
March 1: Gear up: Learn about the power of your plate and get motivated with Alan Desmond, MB, BCh, BAO, BMedSc, MRCPI, FRCP.  
March 8: Jump in: Solidify your game plan and start your plant-powered meal plan with Terri Stone, MD.  
March 15: Keep it up: Note successes and overcome challenges with Jasmol Sardana, DO, FACLM, DipABLM. 
March 22: Finish strong: Understand the benefits of a plant-fueled approach with Kofi Essel MD, MPH, FAAP. 
March 29: Celebrate success: Come together for a virtual celebration potluck and discussion on how to continue these healthful habits. 
Register below for this free program, then check your email for the Zoom link: 
Disclaimer: While this challenge is tailored to health care professionals in the Washington, D.C., area and resources for health care professionals will be provided, others will also benefit from this program and are welcome to attend.