Resource
Tell Vanderbilt University: Modernize Emergency Medicine Training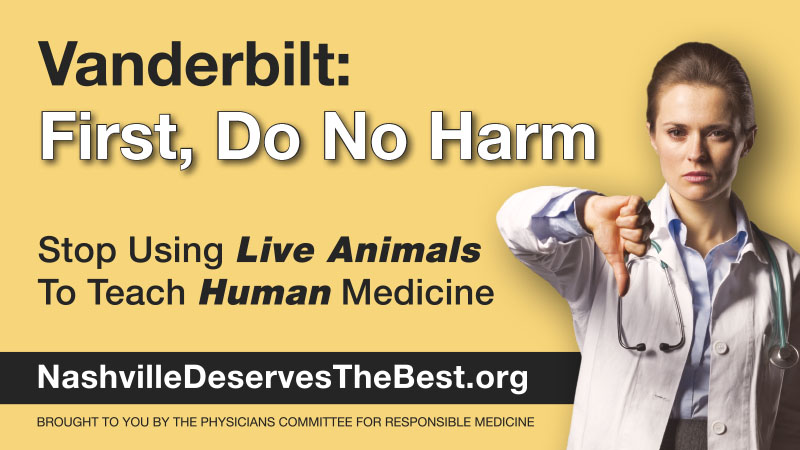 At Vanderbilt University, emergency medicine residents are taught procedural skills using live animals, despite the widespread availability and implementation of nonanimal methods.
A long-standing Vanderbilt University rally call is to "Anchor Down," but when it comes to Vanderbilt's emergency medicine training, the Physicians Committee for Responsible Medicine urges the opposite! Anchors aweigh! It's time to move forward and modernize.
The procedures performed by emergency medicine residents involve making an incision into a pig's chest to insert a tube, placing a catheter in a large vein, and inserting a needle below the breastbone to remove fluid from the sac surrounding the heart. At the end of each session, the animals are killed.
This animal use is at odds with current standards of practice in the United States. Today 94 percent of surveyed emergency medicine residencies in the United States and Canada (247 of 264) exclusively use human-based medical simulation, cadavers, and other nonanimal training methods. These include prominent regional programs such as Duke University, Emory University, Wake Forest University, and the University of Alabama at Birmingham. In fact, Vanderbilt's own Advanced Trauma Life Support program teaches the same procedures using simulators. The university already has a state-of-the-art simulation center—the Center for Experiential Learning and Assessment—that could provide the resources to replace the use of animals immediately.
Please take action and ask Chancellor Nicholas S. Zeppos and School of Medicine dean Jeffrey R. Balser, M.D., Ph.D., to end this educationally and ethically inferior practice by making the switch to simulation—because Nashville deserves the best.
Media Contact:
Reina Pohl, MPH
Communications Coordinator
202-527-7326
rpohl [at] pcrm.org
Campaign Contact:
Christine Kauffman
Research and Education Program Specialist
202-527-7307
CKauffman [at] PCRM.org (subject: Nashville%20Deserves%20Better)
Tell Vanderbilt University to Stop Training on Live Pigs
Currently, 94 percent of emergency medicine residencies train without using animals.