Shauna Schultz, R.D.
Food for Life Instructor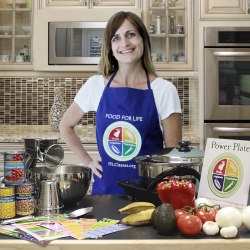 Shauna Schultz is a registered dietitian, whose goal is to provide the education and support needed to achieve better health. She is an advocate for plant-based diets and believes nourishment begins with enjoyment of healthy meals and simple cooking skills. When not in the kitchen with her daughter by her side or talking food and nutrition, she can be found on the trails running with her dog, Cisco. Shauna has more than 15 years teaching and counseling experience and became a Food for Life Instructor in 2015. Shauna specializes in vegan nutrition, recipe development, and weight management, guiding her clients and audiences on how to implement plant-based meal planning. She currently teaches plant-based-nutrition cooking classes in Northern California.
Serving cities and surrounding areas of Grass Valley, Nevada City, Truckee/Tahoe, Auburn, Rocklin, Roseville, Marysville/Yuba City
Upcoming Classes
---