Do you want to learn more about plant-based nutrition?
Monday Night Nutrition Classes
As a Barnard Medical Center patient, you are offered the opportunity to join a highly supportive and interactive group class. The classes are led by registered dietitians and cover a variety of nutrition topics over a 12-week period. It is preferred that you register for the class series prior the first class, but open enrollment is provided. Friends and family members are also invited to attend these classes with you.
To register, please call the Barnard Medical Center at 202-527-7500, use the patient portal to send us a message that you would like to attend, or speak with a member of the Barnard Medical Center team at the front desk.
Are you interested in encouraging healthy eating habits in your office? We also provide workplace wellness talks and lectures. Please call 202-527-7500 to find out more information.
Events
Food for Life Class Series - Diabetes Initiative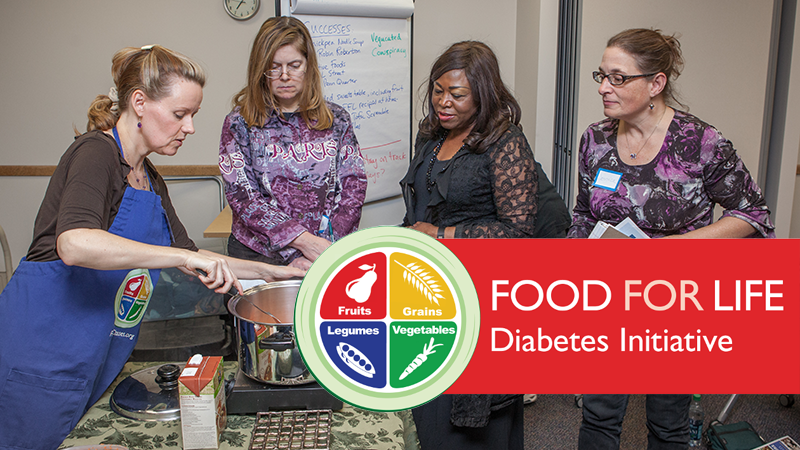 Eleven percent of the U.S. adult population has diabetes (up from eight percent in 2007), and nearly one-third of those 65 and older have the disease. Uncontrolled, diabetes can lead to complications from head to toe, including stroke, loss of vision, heart disease, kidney failure, and various problems due to nerve damage and circulatory problems, such as erectile dysfunction or lower-extremity amputation. Research studies have demonstrated that a plant-based nutrition approach reduces the risk of diabetes and can greatly benefit those who have been diagnosed with the disease.
The goal of the Food for Life: Diabetes Initiative program is to empower people who have diabetes and those concerned about developing diabetes, along with their friends and family members with new information and skills. Each class offers a cooking demonstration, and provides samples of delicious, health-promoting dishes, along with a take-home packet of easy and affordable recipes.
This is a FREE class series. Participants must register to attend. Classes are held at the Physicians Committee for Responsible Medicine office, 5100 Wisconsin Ave. N.W., Suite 400, Washington, D.C., 20016
Class Dates:
Tuesday, May 7, 6 p.m. to 7:15 p.m.: Introduction lecture by Barnard Medical Center Physicians
Tuesday, May 14, 6 p.m. to 7:45 p.m.: Introduction to How Foods Fight Diabetes
Tuesday, May 21, 6 p.m. to 7:45 p.m.: The Power of Your Plate and Grocery Cart
Tuesday, May 28, 6 p.m. to 7:45 p.m.: Understanding Type 2 Diabetes
Tuesday, June 4, 6 p.m. to 7:45 p.m.: Designing a Diet for Maximum Weight Control