Do you want to learn more about plant-based nutrition?
Monday Night Nutrition Classes
As a Barnard Medical Center patient, you are offered the opportunity to join a highly supportive and interactive group class. The classes are led by registered dietitians and cover a variety of nutrition topics over a 12-week period. It is preferred that you register for the class series prior the first class, but open enrollment is provided. Friends and family members are also invited to attend these classes with you.
To register, please call the Barnard Medical Center at 202-527-7500, use the patient portal to send us a message that you would like to attend, or speak with a member of the Barnard Medical Center team at the front desk.
Are you interested in encouraging healthy eating habits in your office? We also provide workplace wellness talks and lectures. Please call 202-527-7500 to find out more information.
Food for Life: Cancer Class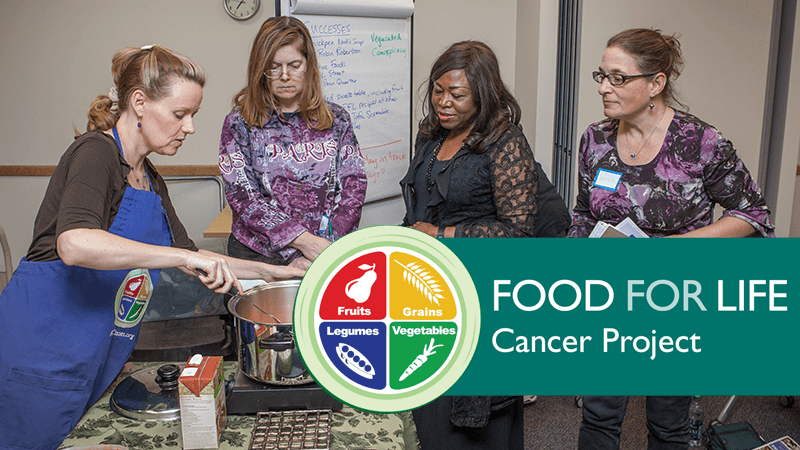 More than four decades ago, the United States declared a "war on cancer," yet current statistics predict that during our lifetime, one in two men and one in three women will develop cancer.  This amounts to 1.5 million people being diagnosed with cancer in the United States each year, and cancer causing nearly one-quarter of every death in America. Research has shown that more than one-third of all cancer deaths in the United States are due to poor diet, yet most are unaware of the connection. Faced with these startling statistics, Physicians Committee for Responsible Medicine developed the Food for Life: Cancer Project curriculum to offer a new direction in battling this disease. The Food for Life: Cancer Project classes include information about how certain foods and nutrients work to promote or discourage cancer growth, along with demonstrations of simple recipes that can be easily recreated at home. The intended audience of the Food for Life: Cancer Project classes are cancer survivors and their family and friends as well as those looking to prevent the disease. These classes are not intended for individuals currently going through cancer treatment.
This is a FREE 5 class series on Tuesday nights at 6pm starting August 13 and going through September 10. Participants must register to attend.