Elyse Sokoloff, R.N., B.S.N.
Food for Life Instructor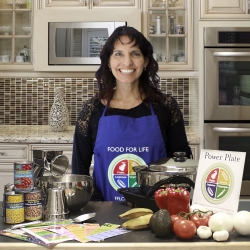 Elyse Sokoloff is an emergency room nurse who is passionate about healthy, plant-based eating. After transitioning to adult medicine after more than 10 years in pediatrics, she was dismayed at the poor health status of her patients. Most of the problems her patients were having were a direct result of the poor diet they were eating: heart attacks, strokes, high blood pressure, and type 2 diabetes, to name a few. She realized that modern medicine was offering symptom relief with no true cures. After getting her certificate in plant-based nutrition from eCornell, she realized she could make a real difference in her patients' lives by advocating for a healthy, plant-based diet. She loves trying new recipes and tweaking them to make them even healthier. Her two daughters, who also eat plant-based, enjoy being her taste testers.
Serving cities and surrounding areas of Washington | Spokane and surrounding areas (Mead, Colbert, Liberty Lake, Cheney, etc.) Idaho | Post Falls, Coeur d'Alene and Hayden
Upcoming Classes
---