Online Event
Your Body in Balance: Tackling Diabetes
Wednesday, Sep. 9 - Wednesday, Sep. 23, 2020, 7-8 p.m. E.T.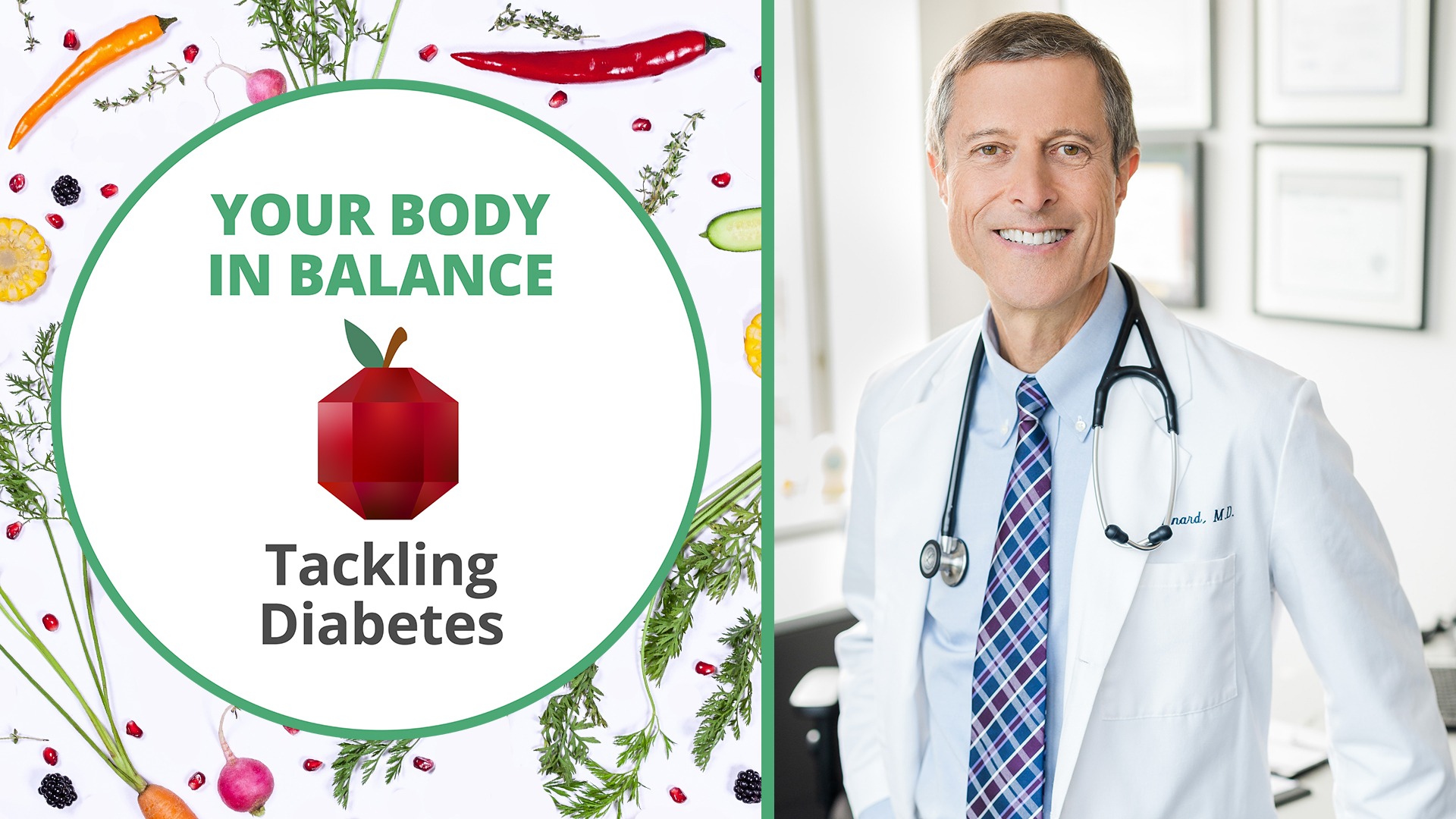 Join Neal Barnard, MD, and special guest experts for a three-week webinar about tackling diabetes with diet! Learn how to manage and even reverse diabetes with practical nutrition tips and support.
Research conducted by Dr. Barnard and the Physicians Committee and funded by the National Institutes of Health showed that type 2 diabetes is a potentially reversible condition for many. People who thought that diabetes was a one-way street have been able to turn their lives around by losing weight, reducing or eliminating their medications, and sometimes reversing this disease.
Join us to find out how you can put this breakthrough to work in your own life!
Dr. Barnard, prominent researcher and author of the bestselling book Dr. Neal Barnard's Program for Reversing Diabetes, is combining his expertise with Physicians Committee clinicians to provide a comprehensive strategy for managing and reversing diabetes.
Three online courses will tackle:
Sept. 9 - Understanding Diabetes, Weight Control, Insulin Resistance, and Healthy Diets for Type 1 vs. Type 2 Diabetes
Sept. 16 - Understanding Blood Tests and Staying Heart Healthy with a Plant-Based Diet

Sept. 23 - How a Healthy Diet Can Help from Head to Toe
Learn new tips and techniques for combating diabetes from the comfort of your home during this virtual Zoom webinar series. Sign up below! 
Registration is $99 and includes a copy of Your Body in Balance: The New Science of Food, Hormones, and Health. A Zoom link will be provided via email after registration. 
Can't make it to a class? Recordings will be available for registrants to view on demand after each class.
Please call or email Anne Marie Vastano at avastano@pcrm.org or 202-717-8662 with any questions.
" I reversed type 2 diabetes with the help of two things: a whole foods, plant-based, no oil diet, and Dr. Neal Barnard. Without those two things, I wouldn't be here today. "
Bob Blackburn, who shares his story in Your Body in Balance
Tackling Diabetes With Plant-Based Nutrition
Dr. Barnard discusses how to fight and reverse type 2 diabetes with a plant-based diet.