Physicians Committee Scientists Provide Expert Advice on Replacing Animal Tests
Physicians Committee Scientists Provide Expert Advice on Replacing Animal Tests
"Proper planning prevents poor performance." It's a timeless quote used to inspire people to apply adequate thought prior to any action in which great results are expected. U.S. governmental agencies are making plans to move away from animal testing to what many are now calling "new approach methodologies"—a catch-all term referring to nonanimal toxicity test methods. Physicians Committee toxicologists Esther Haugabrooks, Ph.D., and Kristie Sullivan, M.P.H., capitalized on the opportunity to aid in the proper development of this plan by providing advice to regulators and other government scientists at the Scientific Advisory Committee for Alternative Toxicological Methods (SACATM)'s annual meeting.
SACATM is a federally chartered advisory committee for the Interagency Coordinating Committee on the Validation of Alternative Methods (ICCVAM), the National Toxicology Program (NTP) Interagency Center for the Evaluation of Alternative Toxicological Methods (NICEATM), and the Directors of the National Institute of Environmental Health Sciences (NIEHS) and NTP. This committee and its advisee agencies are the hub of government efforts to replace animals in toxicology.
The U.S. government has finally begun to put serious resources toward replacing animals in chemical, pharmaceutical, and other product testing. To properly plan these investments, NICEATM is creating a U.S. Strategic Roadmap: New Approaches to Evaluate the Safety of Chemicals and Medical Products, which ICCVAM has been developing since earlier this year. The roadmap is centered on three main goals:
Encourage the adoption and use of new nonanimal methods and approaches by federal agencies and regulated industries;
Foster the use of efficient, flexible, and robust practices to establish confidence in these new methods; and
Connect end-users with the developers of nonanimal methodologies.
Other updates shared at the meeting and further indication of the resources available to reduce the use of animals in safety testing include EPA's progress in using high-throughput nonanimal methods to quickly screen a large number of chemicals for safety and its very own strategic plan on replacing animal tests under the Lautenberg Chemical Safety Act.
Physicians Committee toxicologists gave several technical comments during the meeting. We commended the work of NICETAM in leading U.S. agencies towards the common goal of replacing animals, and for the ambitious, specific plans outlined to achieve this goal.
We encouraged ICCVAM member agencies, such as the Food and Drug Administration, to be more aggressive in implementing and requiring industry to use such technologies especially for the cases where nonanimal alternatives are already available.
And we suggested in order to make faster progress, the United States needs to share its technological developments with agencies in other countries, and that chemical and pharmaceutical companies should do its part to share data and fund validation of nonanimal methods. Furthermore, the Physicians Committee and other organizations are providing opportunities for training that regulators can leverage to continue to increase the use and acceptance of nonanimal methods.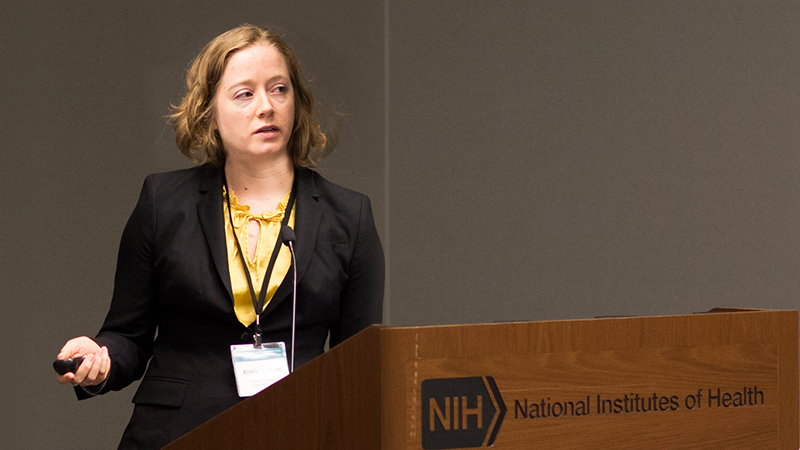 Kristie Sullivan, M.P.H., Physicians Committee toxicologist and vice president of research policy, providing comments at SACATM.
For more information on the SACATM meeting, click here.
Later that week, the American Society for Cellular and Computational Toxicology (ASCCT), a scientific society co-founded by the Physicians Committee, held its 6th annual meeting in the Washington, D.C., metro area. ASCCT is a rapidly growing society that supports toxicologists working to develop nonanimal toxicology approaches by 1) providing opportunities to communicate and collaborate with each other and with regulatory authorities, 2) facilitating mentorship and training opportunities for young toxicologists, and 3) highlighting new toxicology approaches that do not use animals.
ASCCT organizers took advantage of the themes presented at the SACATM meeting to delve deeper into the science and policy behind the progress reported by government agencies. During the two-day ASCCT meeting attendees could view posters and attend session with presentations from EPA regulators and leading scientists from industry and nonprofit organizations.
The first day, tandem presentations by Anna Lowit of the EPA and Dan Wilson of Dow Chemical Company focused on stakeholder efforts to replace the EPA six-pack—a battery of animal intensive tests to determine acute systemic toxicity for (1) oral, (2) dermal, (3) inhalation routes of exposure, (4) skin corrosion and irritation, (5) eye corrosion and irritation, and (6) skin sensitization—with alternative approaches. Several shorter presentations highlighted the exciting scientific work making it possible to replace these tests.
The second day focused on the EPA's responsibility to reduce and replace animals under the Lautenberg Act, with presentations and a panel discussion, moderated by the Physicians Committee's Kristie Sullivan, again focusing on the scientific and policy needs to achieve this objective.
The Physicians Committee gave two poster presentations and one oral presentation. Elizabeth Baker, Esq., senior policy specialist, presented her work on Preclinical Innovation and Patient Safety: A Collaborative Approach to Supporting Innovative Science and Replacing Preclinical Animal Tests  and Esther Haugabrooks, Ph.D., presented a survey of global testing requirements titled Understanding Global Acute System Toxicity Testing Requirements as a Framework for Rapid and Harmonized Acceptance of Alternative Approaches .  Dr. Haugabrooks also presented an oral presentation outlining recommendations for the EPA strategic plan.
Esther Haugabrooks, Ph.D., Physicians Committee toxicologist, giving a presentation entitled the 'Vision for U.S. Strategic Plan to Implement Alternative Toxicology Testing' at the ASCCT meeting.
Elizabeth Baker, Esq., senior policy specialist, by her poster at ASCCT.
For a full list of the ASCCT presentations, click here.
It is evident from the scientific presentations and discussions at the ASCCT meeting that the science of new approach methodologies has surpassed the archaic use of animals to predict human safety, and that we are already seeing the legislative mandates in the Lautenberg Act inspiring more scientific progress.
Proper preparation through scientific advances will make it possible to shift from traditional toxicology testing to alternative, nonanimal methods. Some of these methods, as highlighted at SACATM and ASCCT, are already being used within U.S. regulatory agencies. However, with the development of ICCVAM's strategic roadmap, the EPA's strategic plan to promote and develop alternative methods, and the continual efforts nongovernmental organizations like the Physicians Committee, a broader acceptance of nonanimal approaches within regulatory agencies is on the rise.
The Physicians Committee is looking for two spring semester interns to work on our programs promoting the replacement of animals in testing, research, and medical education with human-relevant methods. Apply today!
Stay Connected
Receive action alerts, breaking medical news, e-newsletters, and special offers via e-mail. Sign up >