Exam Room: Very Vegan Thanksgiving

Chuck Carroll
Chuck shed 265 pounds by conquering food addiction and devoting himself to a healthier lifestyle! Eight years later, he's maintaining the weight loss by eating a plant-based diet. Going vegan once seemed unthinkable to Chuck, but now it's going back to eating processed meat and dairy that would be inconceivable.

Neal Barnard, M.D.
Dr. Neal Barnard, a real-life rock star and authority on plant-based living, motivates and inspires both new vegans and those who have been plant-powered for life.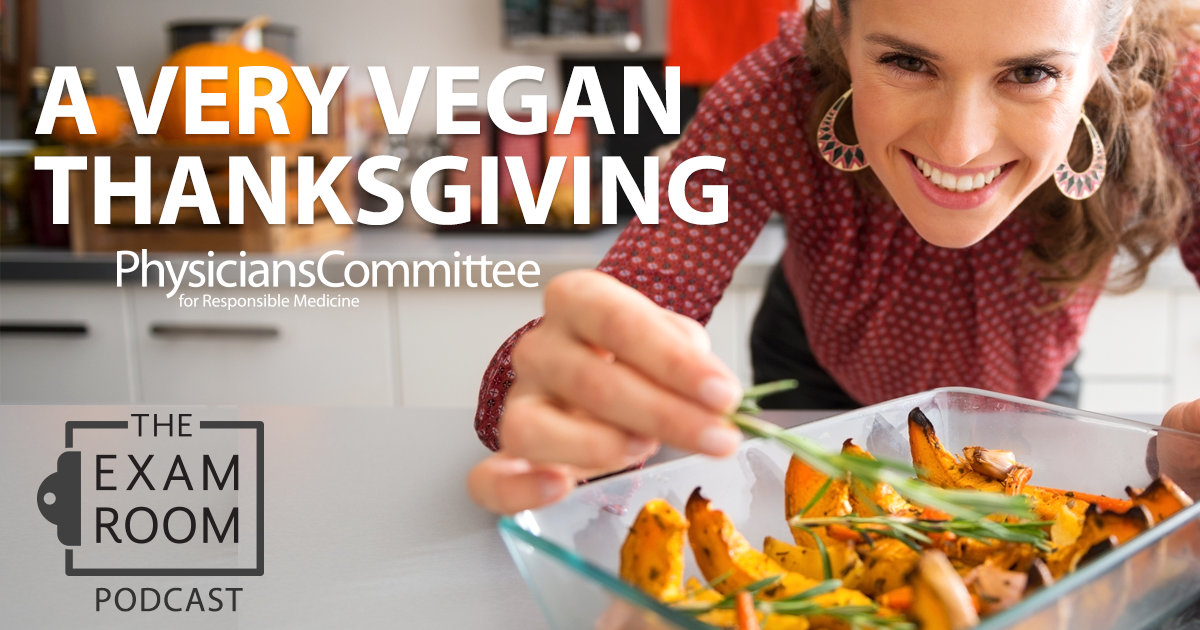 A Very Vegan Thanksgiving
 
About Betty Mizek
Like many healthcare providers, Betty was used to taking care of others and put her health last. She suffered a heart attack in 2016 and decided it was time to adopt a plant-based vegan diet. After she got out of the hospital, she jumped right in. She has maintained optimal health—improving her cholesterol, lowering her blood pressure, and even lost weight, without trying—after building meals around the new four food groups: vegetables, fruits, whole grains, and legumes. She prepares delicious kale salads with a two-ingredient dressing: orange juice and a banana. Her motivation to keep going? Staying out of the hospital to watch her two young grandchildren grow up.
Watch Betty with Dr. Neal Barnard and Karen Smith, R.D. on ABC affiliate WJLA in Washington, DC.
Tasty Train Food
Did you know that vegan options are becoming easier to find on the rails? The Physicians Committee's #TastyTrainFood campaign is highlighting some of the healthier options you can find on the trains.
In fact, holiday travelers who ride Amtrak will find numerous healthful meals in Amtrak stations as well, according to a new survey by the nonprofit Physicians Committee. Dietitians ranked nine of the largest train stations finding that Union Station in Los Angeles and Union Station in Washington earn the highest scores.
View all of the vegan options on Amtrak as well as the rankings for healthiest train stations.
Dr. Jim Loomis' Cauliflower Buffalo Wings Recipe
Ingredients
Wings:
1 head of cauliflower, cut into large florets
1 1/4 cups chickpea flour
3/4 cup water
1 teaspoon garlic powder
1 teaspoon onion powder
1/2 tsp smoked paprika,
1/2 tsp chili powder
A pinch of salt
Fresh cracked pepper
Mango Sriracha Glaze:
1 cup fresh mango puree
1/4 cup Sriracha sauce or to taste 
1 Tbsp or more hot sauce or to taste (I used Frank's red hot)
1/4 cup Orange juice
generous pinch of garlic powder
1/4 tsp ginger powder
Cooking Instructions
Wings
Preheat the oven to 450 degrees F.
Chop the cauliflower into 1.5-2 inch pieces.
Mix the batter in a bowl until smooth and thick enough to coat the cauliflower pieces well (add more flour if needed).
Dip cauliflower in the batter and place on parchment lined baking sheet.
Line the sheet with parchment or grease very well. Bake for 20 minutes.
Glaze
In a pan, mix all the ingredients and heat on medium.
Taste and adjust spice, sweet and tang if needed (add brown sugar or vinegar for extra sweet or tang).
Let the glaze come to a boil for 1-2 minutes.
Pour over the baked cauliflower, mix to coat and serve.