Chuck Carroll
Chuck shed 265 pounds by conquering food addiction and devoting himself to a healthier lifestyle! Eight years later, he's maintaining the weight loss by eating a plant-based diet. Going vegan once seemed unthinkable to Chuck, but now it's going back to eating processed meat and dairy that would be inconceivable.

Neal Barnard, M.D.
Dr. Neal Barnard, a real-life rock star and authority on plant-based living, motivates and inspires both new vegans and those who have been plant-powered for life.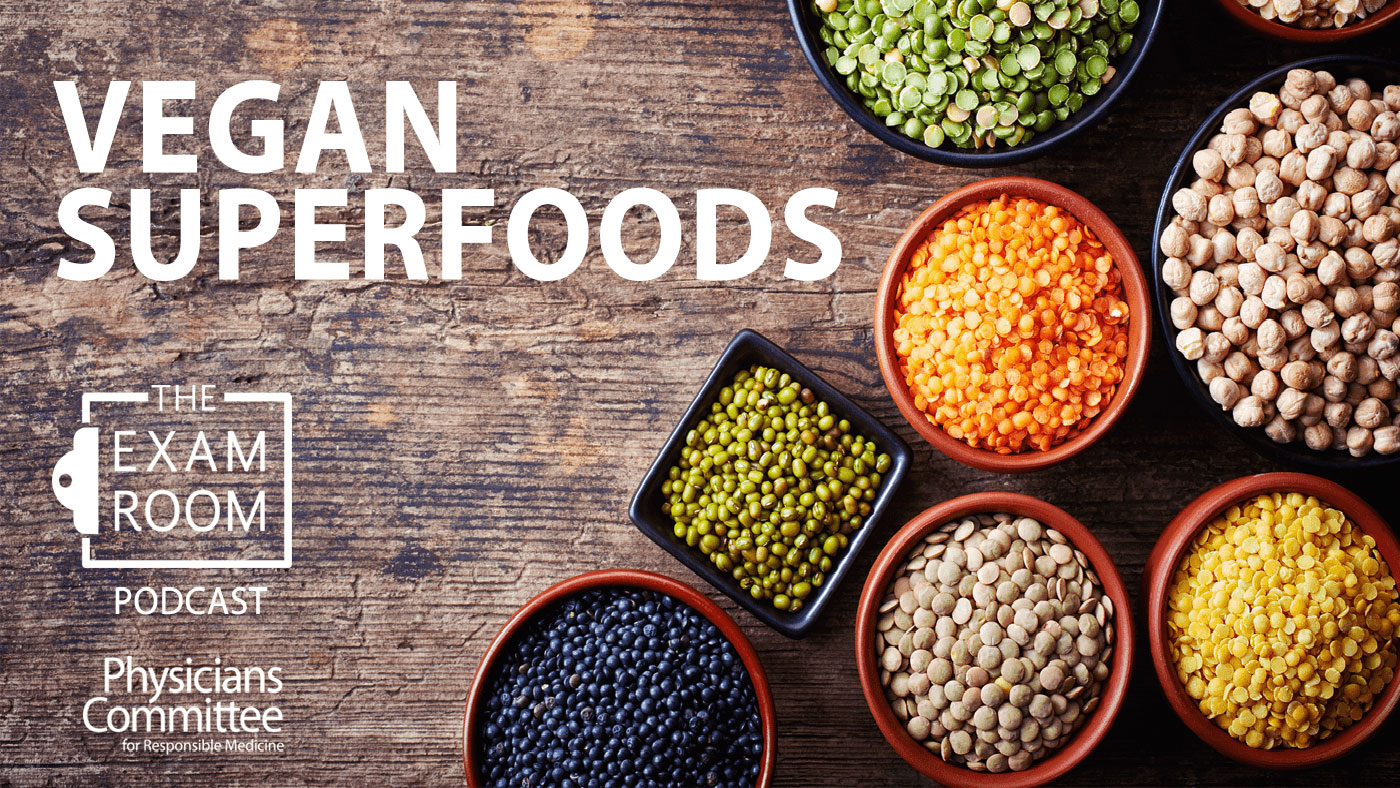 Vegan Superfoods
 
There are foods and then there are SUPERfoods! Learn about the 12 healthiest plant-based superfoods as "The Weight Loss Champion" Chuck Carroll is joined by Barnard Medical Center dietitian Lee Crosby. 
Vegan Olympic cyclist Dotsie Bausch also calls in to share her inspirational story. It's a journey that includes a long battle with eating disorders, an attempted suicide, a life resurgence, and an improbable trip to the podium at the Olympics. And with a silver medal proudly in her possession, her journey continues today.
Plus, be inspired by Neal Barnard M.D.'s words of wisdom.
On the Show
Inspiration: In part one of a two-part interview, Olympic silver medalist and founder of the Switch4Good campaign, which showcases the health risks of dairy products, Dotsie Bausch reveals how an event in the middle of the night changed her life. She calls the moment "shocking and terrifying" but is grateful that it led her to a plant-based diet. Hear firsthand how Dotsie reemerged from a life-threatening eating disorder and failed suicide attempt to become one of the most unlikely Olympic medalists in recent history. Now, she's devoting her time to advocating for animal rights and improving the lives of others through a vegan diet. 
What Is a Superfood? Why are some foods just food while others are super? Lee Crosby, R.D., L.D. will make you a superfood expert as she shares science behind nutrient density.
12 Healthiest Superfoods
Lee has come up with a list of the healthiest superfoods you should always have in your shopping cart.
Watercress
Tops the Center for Disease Control and Prevention's list of "Powerhouse Fruits and Vegetables" with a nutrient density score of 100 out of 100. It's the only vegetable to have a perfect score. What does that mean? Watercress provides 100 percent of all 17 nutrients measured per 100 calories, including potassium, fiber, protein, calcium, iron, thiamin, riboflavin, niacin, folate, zinc, and vitamins A, B6, B12, C, D, E, and K. It's also a cancer-fighting cruciferous vegetable.
Beans
They're good for your heart because they have an abundance of cholesterol-lowering soluble fiber, as well as insoluble fiber. What makes beans truly magical is that they continue to control blood sugar the day after you eat them. They're also high in minerals and inexpensive.
Broccoli sprouts
These powerhouse cruciferous vegetables are cancer fighters. Cruciferous veggies are linked to lower risk of lung, colorectal, and hormone-sensitive cancers such as breast and prostate cancers. Broccoli sprouts are also good for reducing the risk for cancers of the breast, mouth, esophagus, colon, and rectum. They're high in sulforaphane, which may suppress cancer growth—especially breast cancer cells. Science suggests sulforaphane may have a host of other benefits, too, including lowering cholesterol and boosting heart health.  And broccoli sprouts have 10 to 100 times as much sulforaphane as mature broccoli.
Blueberries
Blueberries are great for brain health. One study shows that concentrated blueberry juice can actually improve brain function in older adults. Results show better blood flow to the brain and possible improvements of "working memory." They're also rich in flavonoids, which have antioxidant and anti-inflammatory properties.
Collard greens (aka "the new kale")
One cup of cooked collard greens has the same amount of calcium as a glass of milk, but it's twice as absorbable. It has more vitamin K than any other vegetable except kale and more than twice the magnesium as kale. That's good news for bone health!
Ground flax seed
This is the richest plant source of omega-3 fats. Most of us get too much omega-6 and not enough omega-3 in our diets, but ground flax seed can boost you right up! It's also been linked to lower breast cancer risk.
Oatmeal 
The breakfast staple is a soluble fiber champion for lowering cholesterol. Soluble fiber soaks up cholesterol like a sponge. 
Garlic
Garlic is another cancer fighter, linked to a lower risk of stomach cancer. Another study found eating raw garlic twice a week is linked to a lower risk of lung cancer. Why? Because cancer-protective sulfur is expelled through the lungs as you breathe. So your garlic breath may actually be protecting you from lung cancer! Garlic is full of sulfur-containing substances that are health superstars. It's best eaten raw, whether chopped, minced, or mashed.
Brazil nut
A single Brazil nut contains 100 percent of the daily recommended amount of selenium, which is an antioxidant. But limit yourself to just one Brazil nut each day. Because Brazil nuts are so high in selenium, eating a full 1-ounce serving (6-8 nuts) every day could cause toxicity over time.
Correction from Lee: I misspoke in the podcast; research has shown that in the U.S., selenium intake is generally adequate, regardless of diet style. (In other parts of the world, intake may indeed be low). Eating a daily Brazil nut may help prevent disease if you need more selenium. However, if you already get enough, or you take a multivitamin with selenium, a Brazil nut may not be useful. When in doubt, ask your healthcare provider if the extra selenium in a Brazil nut is right for you.
Nori
Nori is the tasty toasted wrapper on your veggie sushi. Like other sea vegetables, it's rich in iodine, which is a trace nutrient often lacking from our diet despite being important for thyroid health. Enjoy veggie sushi or have toasted seaweed snacks a few times a week. But be careful with other sea veggies! Some are very high in iodine, especially kelp. Just ¼ teaspoon of kelp granules contains nearly three times the safe upper limit. So only use a sprinkle. The good news is that unless you're eating too much, Nori is far less likely to lead to iodine-related issues.
Cherries
Nature's sweet tarts are rich in nutrients and contain a substance that helps you produce sleep-inducing melatonin. Drinking tart cherry juice can even help relieve gout.
Soy
Soy has been proven to be beneficial to both prostate and breast health. It's high in protein and may help lower cholesterol. Many don't realize it, but men produce estrogen. However, the phytoestrogen in soy actually lowers the effect of estrogen in men. 
Quick and Easy Superfood Menu
We're all on a time crunch, but always being on the go doesn't mean you can't fit superfoods into your day. Lee has come up with a quick and easy menu that anyone can follow to keep their diet super.
Super Breakfast
Cinnamon-vanilla oatmeal with ground flax seed topped with frozen blueberries or cherries
Prepare 1-2 servings of instant of old-fashioned oatmeal following package directions. Add 1 tbsp. ground flax, ½ tsp. cinnamon, 1 tsp. vanilla extract, and brown sugar or stevia powder to taste.  Then top with frozen berries. 
You can also make overnight oats by placing everything in a jar the night before. The oatmeal will "cook" in the fridge while the fruit thaws. Deliciousness will ensue. 
Super Lunch
This is a whole-wheat wrap topped with roasted red pepper hummus and filled with sweet grated carrots, crisp cucumbers, and spicy green superfoods such as watercress or broccoli sprouts. 
Super Snacks
Homemade trail mix with shredded wheat or puffed rice, dried or freeze-dried cherries or blueberries, and one Brazil nut. 
Super Dinner
Homemade collard greens, vegetarian baked beans (homemade or store bought), vegan mac 'n "cheeze"
Alternatively, you can do takeout from a grocery store or Japanese restaurant on your way home. Pick up veggie sushi and edamame, which contain the superfoods soy and nori.
Super Dessert