Chuck Carroll
Chuck shed 265 pounds by conquering food addiction and devoting himself to a healthier lifestyle! Eight years later, he's maintaining the weight loss by eating a plant-based diet. Going vegan once seemed unthinkable to Chuck, but now it's going back to eating processed meat and dairy that would be inconceivable.

Neal Barnard, M.D.
Dr. Neal Barnard, a real-life rock star and authority on plant-based living, motivates and inspires both new vegans and those who have been plant-powered for life.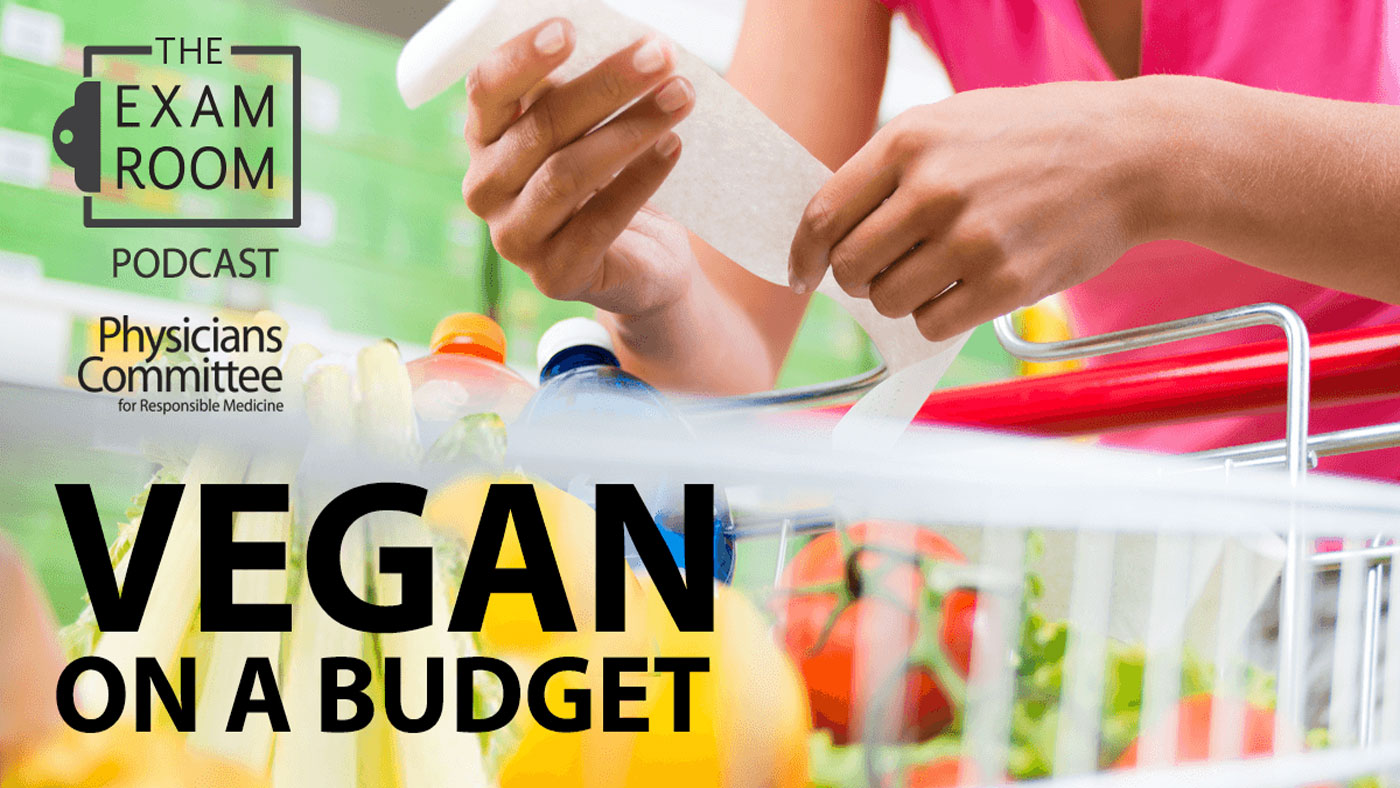 Is it possible to be vegan without breaking the bank? Yes! In fact, on this week's show "The Weight Loss Champion" Chuck Carroll and Lee Crosby, R.D., will show you how you to buy a week's worth of groceries for two people for less than $41! We went to the store and filled our cart for on a budget, and all it took was a little planning. Lee also shares her top tips to save money on fruits and vegetables!
SNAP (the Supplemental Nutrition Assistance Program) has been in the news as of late. Physicians Committee dietitian Susan Levin, R.D., joins the show to talk about the SNAP program and barriers participants face when it comes to choosing healthful foods. We discuss changes the program could make to emphasize healthier options.
On the Show
Easy Ways to Save Money on Fruits and Vegetables
Lee shares the tips she uses to keep her grocery bill low, even on a plant-based diet. On Veggie Quest blog, she listed her top eight tips to save money on a vegan diet.
Compare prices at farmers markets. Prices can vary wildly from one farmer to the next. So, check with a couple of farmers before you buy!
Choose your organics wisely. Because some foods have more pesticides than others, you may consider spending a little more to buy organic on occasion. See the list below of fruits and vegetables that typically have the most pesticide contamination.
Buy frozen when you can. Frozen fruits and vegetables can sometimes be less expensive overall. Additionally, you don't have to worry about throwing them out (and wasting money) because they go bad.
Buy in season. Fruits and vegetables are less expensive when you buy them in season.
Buy in bulk. You can often save money by buying more. However, make sure to have a plan to store the produce so it doesn't spoil.
Store your food wisely. Did you know more than 30 percent of the American food supply winds up in the trash? The USDA calculations add up to 133 billion pounds and $161 billion worth of food annually. Make sure to store your food properly to avoid spoilage. For example, refrigerate the majority of produce you won't eat right away.
Meal plan. Make a menu for the week before going to the store. You'll avoid impulse purchases that drive up the bill.
Make broth. Sometimes spoilage seems inevitable no matter how hard we try to keep food fresh. If you notice that your veggies are about to take a turn for the worse, chop them up and put them in the freezer. When you're ready, make a nice vegetable stock that you can then freeze as well.
The Dirty Dozen
If you can afford to spend a little more, buying the organic varieties of these 12 fruits and vegetables is a good investment. Known as "The Dirty Dozen," these items are likely to be contaminated with the highest levels of toxic pesticides, according to the Environmental Working Group.
Strawberries
Spinach
Nectarines
Apples
Grapes
Peaches    
Cherries
Pears
Tomatoes
Celery
Potatoes
Sweet Bell Peppers
Pass Along the Savings
This show is bigger than any one person. It was designed to give hope to the two-thirds of Americans and others worldwide who are overweight and obese and hoping to make a change. Please help give that hope to others by sharing this podcast.
Please subscribe on iTunes and leave a 5-star rating.