Vegan Olympics: Plant-Based Gold

Chuck Carroll
Chuck shed 265 pounds by conquering food addiction and devoting himself to a healthier lifestyle! Eight years later, he's maintaining the weight loss by eating a plant-based diet. Going vegan once seemed unthinkable to Chuck, but now it's going back to eating processed meat and dairy that would be inconceivable.

Neal Barnard, M.D.
Dr. Neal Barnard, a real-life rock star and authority on plant-based living, motivates and inspires both new vegans and those who have been plant-powered for life.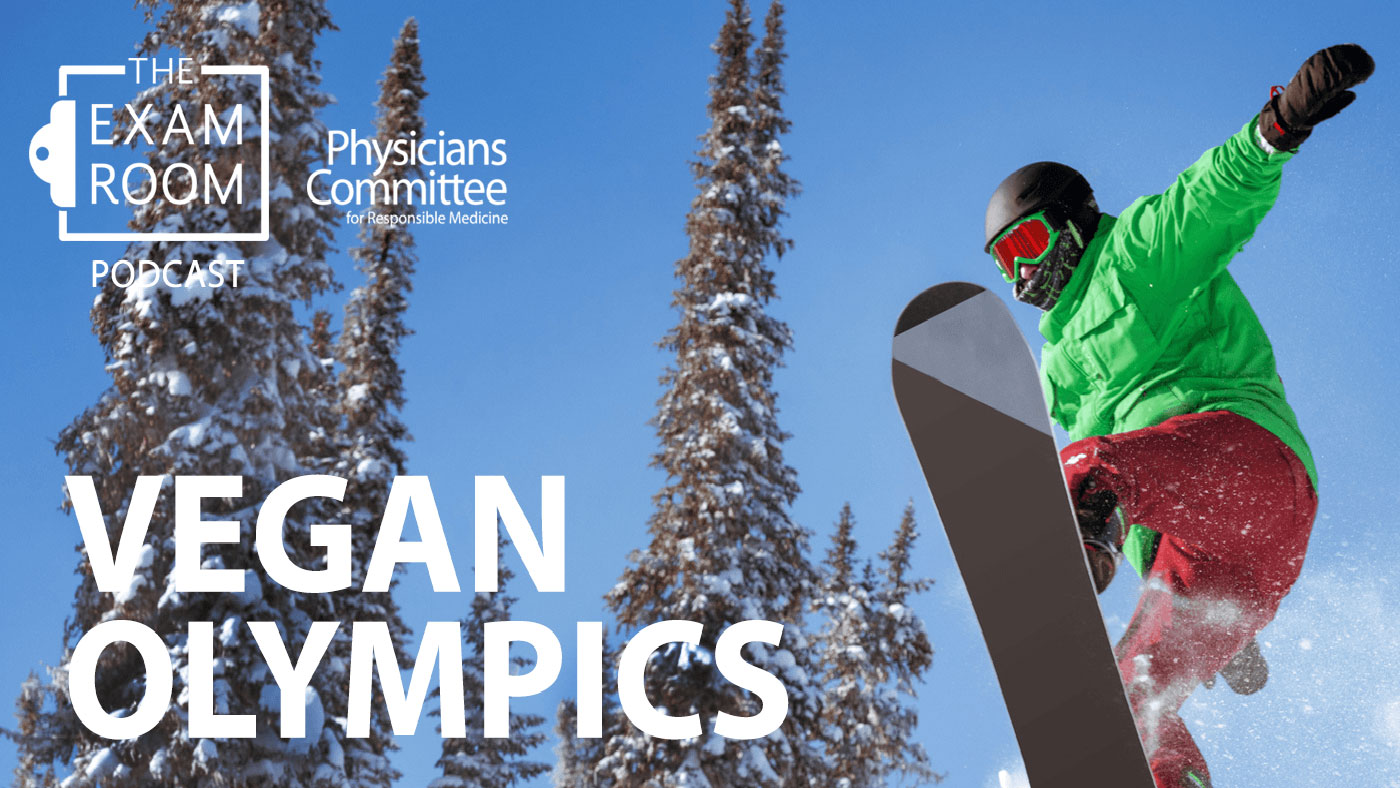 Vegan Olympics: Plant-Based Gold
 
The eyes of the world are focusing on Pyeongchang, South Korea, for the Winter Olympics. The best athletes on the planet are descending on the city for two weeks of intense competition following years of grueling training. Among them is vegan figure skater Meagan Duhamel! The defending silver medalist has a leg up on her rivals thanks to a strict plant-based diet. She joins "The Weight Loss Champion" Chuck Carroll to chronicle the extreme lengths she's going to maintain a perfect vegan diet while competing.
On The Show
Vegan Figure Skater: Meagan Duhamel Skypes into the show just before flying off to South Korea to defend her silver medal in the pairs figure skating competition. The Canadian skater tells Chuck it was the unexpected discovery of a "skinny" book that led her to adopt a plant-based diet. She's now thriving as a vegan and ready to face the world at the Olympics. She says ridding her body of meat and dairy enables her to stay lean, mean, and tiny on the ice. That latter is critically important given her skating partner needs to lift her time and again during their routine!
So how does she manage to stay vegan at the Olympics? It wasn't easy four years ago when McDonald's was the primary food source for athletes — even during competition! So she's planning ahead and sending a ton of food over to ensure she has what she needs. She's also been scouting grocery stores in the area.
Meagan also reveals her favorite dish to make at home. You can check her famous Unknown Chickpea Casserole at LutzOfGreens.com. Yes, that is the actual name of the dish! Also check out her morning staple, quinoa breakfast parfait.
She's also one of our celebrity chefs for the 21-day Vegan Kickstart.
Vegan Diet for the Ultra Athlete: What does the menu of a world-class ultra-athlete look like? It's 4,500 calories of plant-based nutrition to fuel a body that's burning a ton of energy every day in training. Barnard Medical Center dietitian Susan Levin, R.D., has put together a meal plan that is mind blowing. Please note, if you are not an ultra-athlete you should not follow this plan yourself.
4,500 calories: 60% carbohydrate, 20% protein, 20% fat Meal

Menu

Pre-Workout Snack

(200-250 calories)

1 energy bar (200-250 calories)

Breakfast

(1,000-1,100 calories)

1 whole-wheat bagel with 2 tablespoons peanut butter and 2 tablespoons jelly

Scrambled tofu

8 ounces soy milk

Snack

(300-400 calories)

Shake made with 4 ounces plant milk, 8 ounces orange juice, and 1 banana

Lunch

(800-900 calories)

1 cup black beans

1 cup corn

Salad with dressing on side or 1 cup green vegetables

2 rolls or 2 slices whole-grain bread

Snack

(450-500 calories)

Baked tempeh or tofu (2 ounces)

1 banana

15 almonds and 3 tablespoons dried fruit

Dinner

(800-900 calories)

2 cups chickpeas

1 cup cubed tofu

2 cups rice

3 slices whole-wheat toast with 1 tablespoon fruit jam on each slice

1 1/2 cups chopped fruit

Snack

(250-400 calories)

12 crackers with peanut butter

8 ounces soy milk
Adapted from the Sports Nutrition Care Manual, a publication of the Academy of Nutrition and Dietetics.
Vegan Athletes Have Better Cardio: A study conducted by Arizona State University finds that "vegetarian endurance athletes' cardiorespiratory ­fitness was greater than that for their omnivorous counterparts." Susan and Chuck explore why that is.
Recipe: Perhaps the most festive Olympic snack ever made. This heavenly plant-based dish is even in the shape and colors of the Olympic rings!
Vegan Recipe On The Exam Room
Aly Luning, a registered dietitian at the Barnard Medical Center, gets creative for the winter Olympics! Check out more of Aly's fun dishes on Instagram @thelittlegreenpea.

Olympic Ring Power Bites
 
Ingredients
5 rice crackers or brown rice cakes
Traditional hummus or white bean spread
1 cucumber
1 yellow pepper
1 red pepper
1 pack of blueberries
1 pack of black mission figs
Cinnamon
Instructions
Gather all ingredients.
Spread hummus or dairy-free yogurt on crackers or cakes.
Top each cracker with one of the five toppings representing the Olympic colors.
Sprinkle cinnamon on yogurt-based crackers or cakes.
Assemble crackers or cakes in the shape of the Olympic rings on a serving dish.
Enjoy!