Chuck Carroll
Chuck shed 265 pounds by conquering food addiction and devoting himself to a healthier lifestyle! Eight years later, he's maintaining the weight loss by eating a plant-based diet. Going vegan once seemed unthinkable to Chuck, but now it's going back to eating processed meat and dairy that would be inconceivable.

Neal Barnard, M.D.
Dr. Neal Barnard, a real-life rock star and authority on plant-based living, motivates and inspires both new vegans and those who have been plant-powered for life.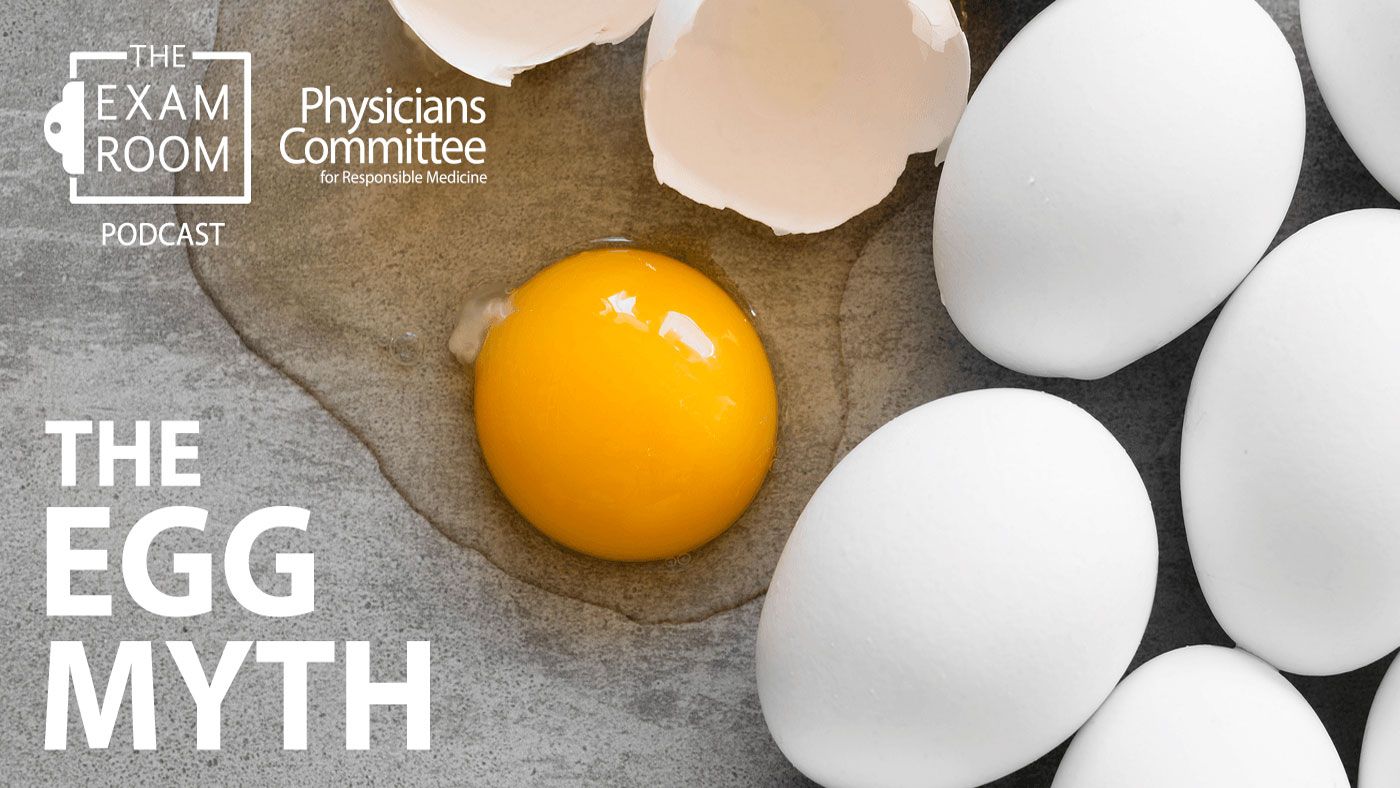 The Egg Myth
 
According to an increasing amount of research, reports of the health benefits of eggs have been greatly exaggerated.
On this show, "The Weight Loss Champion" Chuck Carroll and Barnard Medical Center dietitian Maggie Neola, R.D., L.D., get to the bottom of the egg myth. What truly happens to your body when you break the shell? And does it matter how the egg is cooked?
You'll also learn more than a dozen ways to replace eggs in all sorts of dishes, whether baked or scrambled, from Sierra Coppage, M.A.
Chuck also sits down with Kris Markarian, who shares her inspirational journey that began with an ordinary commuter train ride and led to her transformed health.
On the Show
Replacing Eggs: What You Need to Know
The first thing to know about replacing eggs in recipes is that you can often do without them. If the recipe calls for just one or two eggs, you can simply add a couple tablespoons of water per egg to keep the dish from being dry.
You can still eat "scrambled eggs" by switching to mashed tofu. Use 1 ounce of mashed tofu to replace each egg and add a pinch of cumin or curry for flavor.
There are more great tips in our Vegetarian Starter Kit.
12 Healthy Egg Substitutes for Baking
1/4 cup of tofu (any kind)
1/2 banana, mashed
1/4 cup applesauce or pureed fruit
1/2 cup soy yogurt
1 – 1 1/2 teaspoon of Ener-G Foods Egg Replacer + 2 tablespoons of water
1/4 cup mashed potatoes (white or sweet)
1 tablespoon flaxseed meal + 3 tablespoons water
2 tablespoons potato starch, cornstarch, or arrowroot
2-3 tablespoons tomato paste
1/4 cup cooked oats
2/3 tablespoons bread crumbs
2-3 tablespoons flour
Why Eggs Aren't All They're Cracked Up to Be
Eggs aren't all they're cracked up to be, and it doesn't matter whether they're free range or organic.
Maggie Neola, R.D., L.D., from the Barnard Medical Center cracks open the truth about eggs and pushes back against long-held claims they're part of a healthy diet. Hear about:
How much cholesterol is in an egg.
Whether the yolk is unhealthier than the egg white.
The correlation between eggs and heart disease.
The correlation between eggs and diabetes.
The correlation between eggs and elevated risk for stroke.
The correlation between eggs and cancer.
The dangers of eating runny eggs.
Kris Markarian's Inspirational Story
Kris's story begins on a commuter train. The ride began just like any other. She wasn't expecting anything out of the ordinary. As she had countless times in the past, she opened the newspaper and began reading to pass the time. And then fate intervened.
She noticed an advertisement for a study on the effects of a plant-based diet on the body. Filled with excitement, she called and was accepted, and the next 16 weeks changed her life.