Chuck Carroll
Chuck shed 265 pounds by conquering food addiction and devoting himself to a healthier lifestyle! Eight years later, he's maintaining the weight loss by eating a plant-based diet. Going vegan once seemed unthinkable to Chuck, but now it's going back to eating processed meat and dairy that would be inconceivable.

Neal Barnard, M.D.
Dr. Neal Barnard, a real-life rock star and authority on plant-based living, motivates and inspires both new vegans and those who have been plant-powered for life.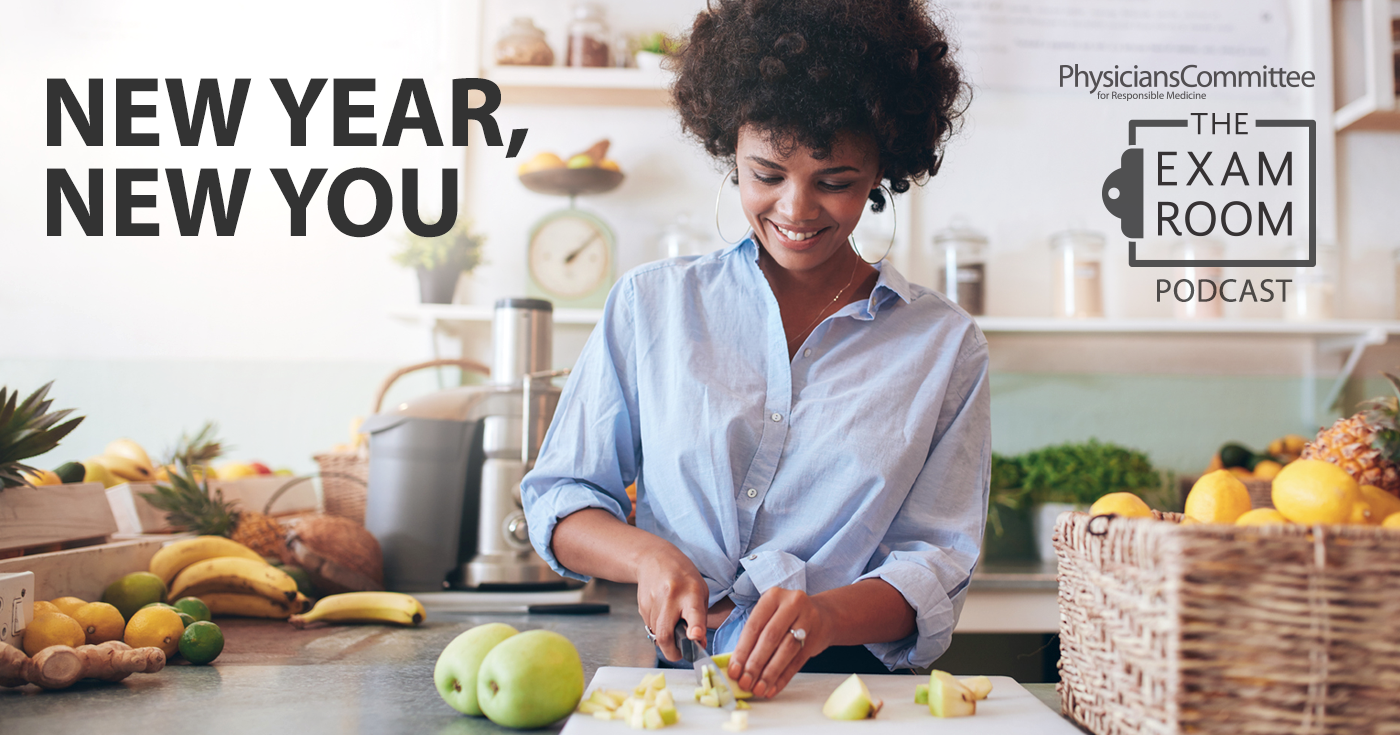 New Year, New You

Happy New Year!
This is the time to hit the reset button on your health. The slate has been wiped clean, and you can make 2018 the year that you truly thrive!
That's why we're calling this episode New Year, New You.
Cliché? Yes. But it's also so very true.
On the Show
Inspiration: In this episode, host Chuck Carroll will share his personal weight loss story with Dr. Neal Barnard. He lost an incredible 265 pounds—going from 420 pounds to just 155 pounds. He'll talk about his battle with food addiction, and Dr. Barnard will explain how the pleasure centers in a food addict's brain can react nearly identically to those of a drug addict's when they are using narcotics.
Breaking food addiction: Breaking from food addiction is one of the hardest things a person can ever go through. However, it is by no means impossible! Dr. Barnard and Chuck will talk about how Chuck was able to conquer his addiction to food. Plus, Dr. Barnard will offer tips on how others can achieve the same success.
What are the health benefits of going vegan? For those considering adopting a plant-based diet in 2018, Dr. Barnard and Chuck will examine the health benefits of a vegan diet: everything from lower cholesterol to reduced risk of chronic diseases, and an often dramatic positive effect on type 2 diabetes.
Vegan diet myths: Can you get all of the nutrients you need by eating vegan? Do vegan athletes struggle to get enough protein in their diets? There's a lot of misinformation about vegan diets floating around the internet. It's a good thing Dr. Barnard is here to do some myth-busting.
Recipe: Chef Beverly Kumari has whipped up an incredibly delicious vegan Bolognese to ring in 2018.
About Chuck Carroll
Chuck Carroll is truly The Weight Loss Champion.
He didn't think he would live to the age of 30. At just 5 feet 6 inches tall, he weighed 420 pounds and was only in his mid-20s. Every diet he tried only wound up as another failure. He would lose some weight only to have it pour back on and, ultimately, became heavier than before.
His chest would tighten just by walking a few feet, and his friends became so concerned that they tried to organize an intervention.
Out of desperation, he decided to undergo gastric bypass surgery on Sept. 1, 2009. Prior to the procedure he was convinced that the surgery would become like all the other failed attempts to lose weight. He thought that at least he would go to his grave knowing he tried everything.
But then the unexpected happened: He woke up from the surgery and never looked back. Though it was a critical component, the surgery proved to be only the first step in his journey. In fact, he only attributes 10 percent of his weight loss success to the procedure.
In just over a year, Chuck lost 265 pounds (two-thirds of his body weight) by conquering food addiction and devoting himself to a healthier lifestyle. The confidence he gained enabled him to pursue his dream of becoming a reporter. He hosted a popular radio show with an NFL player before working as a news reporter for CBS Radio, where he earned a number of awards. He also worked as an anchor for NBC News Radio.
A number of years later, Chuck discovered the Physicians Committee and adopted a vegan diet. It was only then that he truly learned what it meant to be healthy. He's now an advocate for plant-based living and loves inspiring others to conquer their own food addictions and live the healthy lives they deserve.
Recipes on the Show
This recipe is courtesy of Chef Beverly Kumari. This and many other vegan and vegetarian dishes are available in her book Nouveau V: The New Renaissance of Vegan & Vegetarian Cuisine.
Vegan Bolognese

Ingredients
2 tablespoons extra virgin olive oil
1 medium onion, diced
1 carrot, diced
1 tablespoon dried basil
1 tablespoon dried oregano
1 tablespoon dried thyme
1 teaspoon crushed red pepper flakes
Salt and pepper, to taste
1 cup TVP (textured vegetable protein) (*Do not rehydrate.)
1/2 cup clear vegetable broth
2 cups of Chef Bev's sun-dried tomato and roasted garlic sauce (recipe below)
Cooked pasta, for serving
Instructions
In a large Dutch oven, heat the olive oil over medium heat. Add the chopped onions and carrots, and sauté for about 7 minutes, until they begin to soften.
Add salt, pepper, basil, oregano, thyme, and crushed red pepper. Continue stirring the mixture over medium heat until fragrant. Next, add the TVP and vegetable broth, and then add the pasta sauce, stirring frequently to avoid scorching.
Reduce heat to medium-low, and continue cooking the mixture for about 15 minutes, until the TVP has rehydrated and the sauce has thickened.
Serve with your favorite vegan pasta.
Sun Dried Tomato and Roasted Garlic Sauce

Ingredients
5 medium to large roasted garlic cloves (peeled)
3 tablespoons extra virgin olive oil
1/2 cups julienned sun-dried tomatoes
1 1/2 cups tomato sauce
1/2 teaspoons of sea salt (kosher preferably)
1 1/2 teaspoons raw sugar
1 teaspoon fresh oregano
Instructions
Heat oil in Dutch oven over medium heat. Add roasted garlic and sun-dried tomatoes, stirring to make sure garlic does not stick to the bottom of the pot.
Add the tomato sauce, and stir to incorporate.
Add sea salt, raw sugar, and oregano. Stir. Turn heat down to a low simmer. Cook for about 45 minutes, again stirring to make sure there is no scorching or sticking of the sauce and ingredients.
Yields 2 to 3 servings.