The Meat-Cancer Connection

Chuck Carroll
Chuck shed 265 pounds by conquering food addiction and devoting himself to a healthier lifestyle! Eight years later, he's maintaining the weight loss by eating a plant-based diet. Going vegan once seemed unthinkable to Chuck, but now it's going back to eating processed meat and dairy that would be inconceivable.

Neal Barnard, M.D.
Dr. Neal Barnard, a real-life rock star and authority on plant-based living, motivates and inspires both new vegans and those who have been plant-powered for life.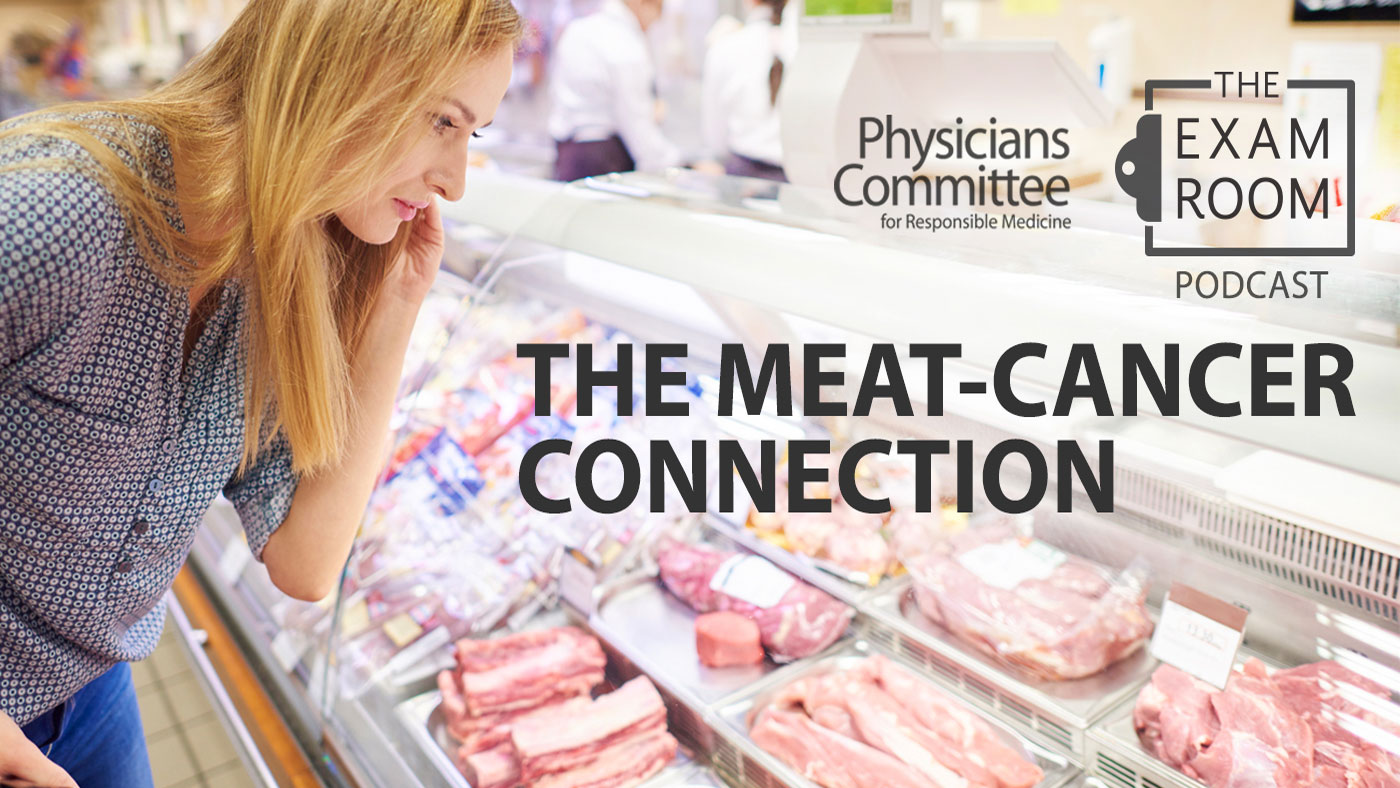 The Meat-Cancer Connection
The link between meat and cancer has been known for more than a century. In fact, an article published in The New York Times in 1907 enlightened readers to that very fact. The headline: "Cancer Increasing Among Meat Eaters." Dr. Barnard even wrote about it in his blog.
Yet, here we are in the 21st century and there are still naysayers. Grills and barbecues have become the American way, and having bacon for breakfast is considered downright patriotic in some places. However, by eating that sizzled salty pork they're ensuring they won't be old when they're waiving Old Glory.
"The Weight Loss Champion" Chuck Carroll along with dietitian Lee Crosby and Dr. Steve Neabore from the Barnard Medical Center are devoting this episode to bringing the dangers of meat consumption to light. Lee will also share her own emotional story of finding not one, but two lumps in her breast. It was only then that she learned about the risk of the Standard American Diet.
On the Show
Inspiration: For Physicians Committee dietitian Lee Crosby, the connection between meat and cancer hits close to home. She shares her story of finding a lump in her breast at a young age and cleaning up her diet as a result. Following treatment, she reverted back to the standard American diet only to have the lump quickly return. The mass was again removed and now she's now devoted 100 percent to a plant-based diet. The lump has not returned.
What foods help prevent cancer? Lee shares her top 10 foods that have been shown to lower the risk of cancer.
Soy
Raw cabbage-family vegetables
High-fiber foods
Flax seed
Sweet potatoes
Nonstarchy vegetables
Mushrooms
Pomegranates
Beans
Diet style: vegetarian/vegan
Top Five Meat Alternatives: One of the biggest concerns a lot of people have before going vegan is the fear of giving up their favorite foods. And for many, that means steak, hamburgers, chicken, etc. But the good news is there are great alternatives for recovering carnivores. Here are Lee's top five.
Beans and lentils: High in soluble and insoluble fiber! Loaded with vitamins and minerals, protein. Very little fat. Versatile! Chili, no-meat loafs, curries, tacos, salads, dips—you name it.
Tofu: Also multipurpose: scrambled, baked, stir-fried: works like meat or eggs. Plus, breast health benefits.
Portobello mushrooms: Not high protein, but meaty taste, texture. Umami (meaty/savory) flavor. Bonus: breast-cancer-fighting phytochemicals!
Wheat: Seitan (wheat gluten) has a chewy, meat-like texture. But don't have to use it "as meat." Because they contain the same gluten protein, most pastas and breads are high in protein. (two slices bread = 8 grams protein—more than an egg!)
Veggie crumbles and veggie burgers: While whole foods are best, there are lots of options if you're transitioning or just hankering for that meaty texture. For crumbles, I like Gardein Ultimate Beefless Ground and Beyond Beef crumbles.) Both low fat and gluten free.
Don't kill it. Don't grill it. For more than a century, the American mentality has been to "kill it and grill it." However, studies have shown that by eating meat you're actually increasing your own risk of death. Dr. Steve Neabore joins the show to talk about the dangers of meat consumption among men. Specifically, he and Chuck will be discussing the link to colorectal and colon cancers. Tens of thousands of men die of those cancers every year in America. And about that "grill it" thing … how you prepare you food also affects the risk of developing cancer.
Recipe: This one is sure to fool your nonvegan friends! It's a taco filling made from lentils and cauliflower rice — you can't taste the difference!
About Lee Crosby
Lee Crosby is an inspiration to women worldwide. Following two breast cancer scares, she devoted herself to a fully plant-based diet and shown no signs of recurrence.
From her blog on Veggie-Quest.com:
"I confess: I used to hate vegetables. In fact, for most of my life, I ate the Standard American Diet (SAD!)—meaty, cheesy stuff like pizza and chicken and dessert almost every night, with some veggies on the side so I could still feel virtuous. When I went out on weekends, I sometimes drank more than a gal should, then hammered that hangover the next morning with bacon and eggs. I knew I should eat better, and of course I wanted to lose weight, but I just wasn't motivated. I mean, I was only in my 20s, right? What could possibly go wrong?
Then at the ripe old age of 30, I had a breast cancer scare. My biopsy results blessedly came back benign, but they showed I could have increased risk down the road. So I met with a breast surgeon and asked her what I should do. She gave me a little health advice, but basically said to watch and wait.
Now, I'm a worrier on a good day; "watching and waiting" isn't really my thing! Instead, I researched the heck out of nutrition and breast cancer risk. Eventually, I concluded I needed to minimize alcohol, processed food, and animal products, while building my diet around whole plant foods—especially cancer-fighting vegetables!
So, with some trepidation, that's exactly what I tried to do.
Then I fell off the wagon. It's a long story, but I stopped exercising and went from being nearly vegan to eating a meaty, sugary, high-fat diet without many veggies. When I went back to my breast surgeon for my quarterly checkup after four months on my meaty new diet, she informed me that a lump that she'd been keeping an eye on—which had been totally stable before—had doubled in size in those same four months.
I was terrified. A suspicious breast lump doubled in size—in only four months?
Within a week I was under the knife, having the lump removed and biopsied. A few sleepless nights later she delivered the news: benign! But it wasn't all roses: The cells she took out were beginning to look more ominous.
Needless to say, I started working out again and got right back to a whole-food, plant-based regimen, including lots of vegetables! I ditched added oils almost completely and tried to stick to lower fat foods. In fact, for the most part, I've eaten that way ever since. It's been over three years since my last surgery, and so far all reports are clear."
Recipes on The Exam Room
Lentil and Cauliflower Rice Taco Filling
 
Lee is a one-woman wrecking crew in the kitchen (in a good way)! She whipped up a delicious "meaty" taco dish she stumbled across. As she writes on her blog, "I like to adapt recipes and share the updated version, but from the first time I made Susan's taco filling, I couldn't think of a thing to change." That must mean it's pretty good. Check out the recipe on from FatFree Vegan.