Chuck Carroll
Chuck shed 265 pounds by conquering food addiction and devoting himself to a healthier lifestyle! Eight years later, he's maintaining the weight loss by eating a plant-based diet. Going vegan once seemed unthinkable to Chuck, but now it's going back to eating processed meat and dairy that would be inconceivable.

Neal Barnard, M.D.
Dr. Neal Barnard, a real-life rock star and authority on plant-based living, motivates and inspires both new vegans and those who have been plant-powered for life.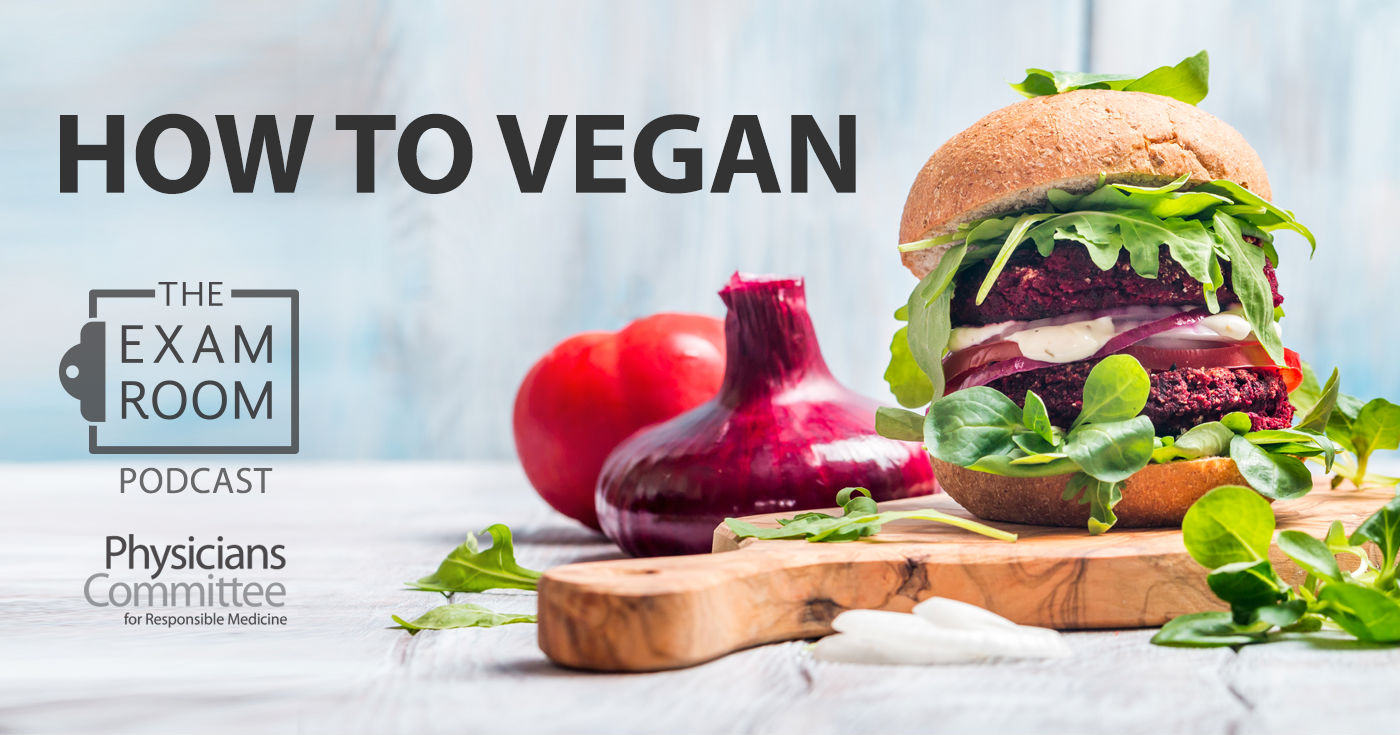 How to Vegan

So you're ready to go vegan? Now what?
That question is exactly why we're calling this episode "How to Vegan." Consider it your guide for the healthiest journey you'll ever take.
"The Weight Loss Champion" Chuck Carroll will be joined a panel of vegan experts to make the transition to a plant-based diet as easy as possible. Plus, you'll hear from a former elite athlete who defied genetics, stared diabetes and a likely premature death in the face, and beat them both by going vegan. His family's history with the disease was no match for a plant-based diet!
And Dr. Neal Barnard will give you one of the best pieces of advice any new vegan could ever get. Hint: A journey is sweeter when not made alone.
On the Show
Inspiration: On this episode, host Chuck Carroll speaks with former University of Michigan football player Marc Ramirez. Like many who battled on the gridiron, Marc's weight exceeded 300 pounds at one point and led to a myriad of health complications. Diabetes is all too common in his family and ultimately claimed his mother's life. But Marc was able to reverse his own fortunes through dedication to adopting a plant-based diet. And now he and his wife are inspiring others to follow suit through their program, Chickpea and Bean.
What should a new vegan eat? It's a great question that gets asked by pretty much everyone thinking about making the switch. Barnard Medical Center dietitian Susan Levin, R.D., joins the program to give the answer! There's actually an easy three-week menu for new vegans that's part of our 21-Day Vegan Kickstart program. Susan and Chuck will cherry-pick some of their favorites!
Hooray for Hollywood! Speaking of the 21-Day Vegan Kickstart Program … did you know that there are celebrity coaches? Every day, stars such as Alicia Silverstone from Clueless and Maggie Q of Designated Survivor fame will be your coaches and provide inspiration to keep you going as you transition to a plant-based lifestyle. Barnard Medical Center dietitian Maggie Neola, R.D., joins the program to go over the who's who of stars that are part of the program!
Um, I just went vegan and dining out is hard! At first, dining out can seem nearly impossible for new vegans. But the truth is, it's not! Susan is back with tips for vegans to keep it plant-based at nearly any restaurant!
Recipe: It's the ultimate "fast food"—quickie quesadillas! Health coach and Physicians Committee managing director of nutrition Jill Eckart is here to whip up this palate pleaser from the 21-Day Vegan Kickstart program. It takes less than 5 minutes to make!
About Marc Ramirez
Marc excelled on the gridiron and was recruited to play at football-powerhouse University of Michigan. While he loves sports, years later he would discover that health and helping others were his true passions.
After losing his mother to type 2 diabetes and his older brother to pancreatic cancer, Marc adopted a plant-based vegan diet. He no longer takes daily insulin injections or medications to treat diabetes, high cholesterol, and high blood pressure. He lost 47 pounds within three months and no longer struggles with psoriasis, heart burn, or erectile dysfunction.
Eager to spread the word about a plant-based prescription, Marc started the nonprofit Chickpea and Bean Inc. with his wife, Kim. They host cooking and nutrition classes and work with the University of Michigan to help spread the word to faculty, football alumni, and students.
Recipes on The Exam Room
These quesadillas are from the dinner menu on day three of the 21-Day Vegan Kickstart program. So fast! So delicious!
Quickie Quesadillas
Ingredients
2 cups of red pepper hummus
8 corn tortillas
1/2 cup chopped green onions
1/2 cup chopped tomatoes
1/2 - 1 cup salsa
Instructions
You can use our red pepper hummus recipe or buy your favorite hummus from the store to save time.
Spread a tortilla with 2 to 3 tablespoons of hummus and place in a large nonstick skillet over medium heat. Sprinkle with onions, tomatoes, and salsa.
Top with a second tortilla and cook until bottom tortilla is warm and soft, 2 to 3 minutes. Turn and cook second side for another minute. Remove from pan and cut in half. Repeat with remaining tortillas.
Yields 8 servings.
Original source: Healthy Eating for Life for Children by Amy Lanou, Ph.D.; recipe by Jennifer Raymond, M.S., R.D.