Everything You Need to Know About Fiber

Chuck Carroll
Chuck shed 265 pounds by conquering food addiction and devoting himself to a healthier lifestyle! Eight years later, he's maintaining the weight loss by eating a plant-based diet. Going vegan once seemed unthinkable to Chuck, but now it's going back to eating processed meat and dairy that would be inconceivable.

Neal Barnard, M.D.
Dr. Neal Barnard, a real-life rock star and authority on plant-based living, motivates and inspires both new vegans and those who have been plant-powered for life.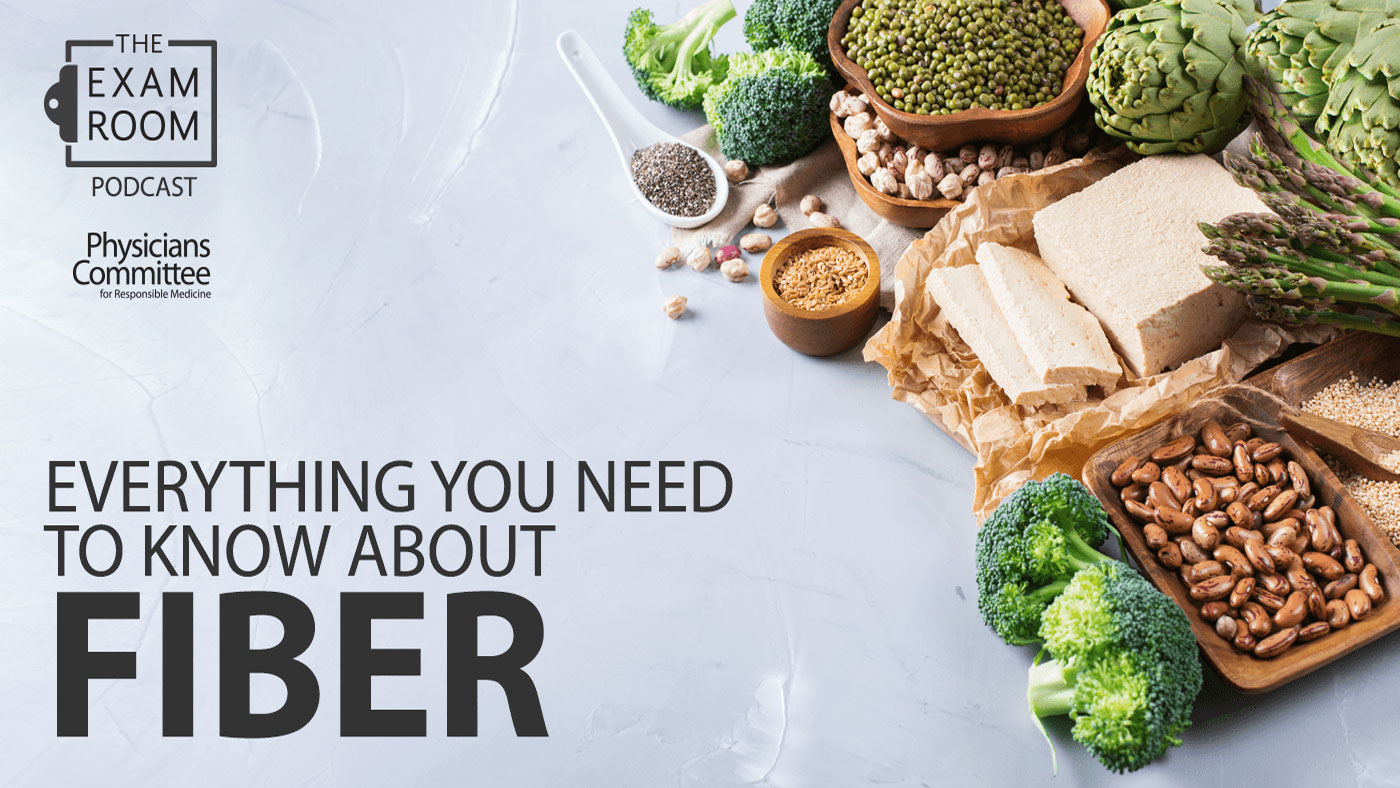 Everything You Need to Know About Fiber
 
Fiber is the Clark Kent of the nutrition world. Hiding in there is Superman with amazing super powers! This disease-fighting powerhouse can reduce your risk of developing cancer and diabetes, cut food cravings, lower cholesterol, and reduce arthritis risk. And it can help you live longer, too!
But what keeps fiber flying high is its ability to help you lose weight!
Unfortunately, the standard American diet is anything but heroic. In fact, it's just plain SAD. So, in this episode, "The Weight Loss Champion" Chuck Carroll is joined by Stephen Neabore, M.D., and Lee Crosby, R.D., L.D., from the Barnard Medical Center to teach you everything you need to know about fiber… and then some!
You'll also hear the inspirational story of Evan Bass, who transformed his near 300-pound body into a lean, mean running machine! His success is built on hard work, discipline, and a relentless drive to not just live, but to thrive! The conversation between Evan and Chuck, who once weighed 420 pounds, offers new insight into what motivates a person to change and how an inner drive to better yourself can prompt others to strive for a healthier life.
Evan Bass's Inspirational Journey
The Evan Bass of a few years ago is unrecognizable. Like so many worldwide, he was morbidly obese. His quality of life was suffering tremendously due to a poor diet that primarily consisted of copious amounts of fast food and pizza. The menu was filled with high-cholesterol, high-fat, and high-sodium foods, much of which was derived from dairy. He was facing emotional torment from the outside world, but also from within.
But then he had a wakeup call. A concerned friend fed up with a seemingly never-ending list of excuses blurted out, "You're never going to lose weight."
She immediately apologized, but her words hung out there seemingly forever. Evan thought hard about what she said and after a lengthy pause he said, "You're right."
In that moment Evan 2.0 was born, and he's never looked back.
Today, he's pounding the pavement and breezing by the competition. He's not just winning races in his age group, he's besting runners two decades younger!
Fiber Facts and Resources
How Fiber Helps Protect Against Cancer
High-Fiber Foods Reduce Risk of Type 2 Diabetes
High-Fiber Diet Lowers Risk for Arthritis
Fiber Is the Key to Good Health
High-Fiber Diet Good for Lungs
How to Know if You're Eating Enough Fiber
High-Fiber Foods for Weight Loss
Share the Show
Please pass along what you've learned on the show by sharing it with a friend and by subscribing on iTunes or many other podcast providers.