Earth Day Menu
On April 22, celebrate Earth Day with a variety of colorful, nutritious, and delicious recipes. PCRM is thrilled to share with you a menu that is all of those things! Tips like using tofu instead of dairy products in recipes like Lemon Crème make for tasty, yet healthy versions of traditional favorites. Get more plant-based meal planning tips.
Feel good about eating meals that are filled with health promoting foods, positively impact the environment, and spread the message of compassion for animals. 
Out-of-the-Red Beet Soup >
Garbanzo Guacamole >
Balsamic Zucchini Sandwiches >
Lemon Crème >
Out-of-the-Red Beet Soup
Makes 3 servings
Beets are easy to grow, making them a very economical choice, even if you buy them from someone else's garden.
2 cups shredded fresh beets
1 cup unsweetened soymilk or rice milk
2 tablespoons apple juice concentrate
1 1/2 teaspoons fresh dill, or 1/2 dried dill weed, plus more for garnish
1 teaspoon balsamic vinegar
Put all the ingredients in a blender and process on high speed for 2 to 3 minutes, until completely smooth. Transfer to a medium saucepan and cook over medium heat until the soup is hot and steaming, about 10 minutes. Serve hot.
Tips: Choose beets that have healthy looking greens attached, and you'll get two vegetables for the price of one. The nutritious beet greens can be steamed and served as a side dish.
Recipe from Eat Vegan on $4 a Day by Ellen Jaffe Jones
Makes 8 servings
This is a lower-fat version of traditional guacamole. Because of the small amount of avocado used, however, it still contains some fat. To reduce the amount of fat, eliminate the avocado. The recipe will still be delicious. Serve with baked tortilla chips or fresh vegetables.
1 15-ounce can garbanzo beans, rinsed and drained
1 tablespoon fresh lemon juice
1 garlic clove, crushed
1 medium onion, chopped
1/2 small avocado, peeled and chopped
1 medium tomato, chopped
4 green onions, thinly sliced
1 tablespoon canned chopped green chilies
Place garbanzo beans in a food processor or blender. Add lemon juice and garlic. Process briefly, until garbanzos are slightly chopped. Add onion and avocado. Process again until the mixture is chunky. Place the mixture in a bowl and add tomato, green onions, and chilies. Mix well. Cover and chill before serving.
Per serving (1/4 cup): calories: 89; fat: 2.6 g; calories from fat: 26.3%; cholesterol: 0 mg; protein: 3.9 g; carbohydrates: 13.7 g; sugar: 1.6 g; fiber: 3.6 g; sodium: 10 mg; calcium: 30 mg; iron: 1.3 mg; vitamin C: 6.8 mg; beta-carotene: 127 mcg; vitamin E: 0.5 mg
Recipe from Mary McDougall of the McDougall Program (www.drmcdougall.com)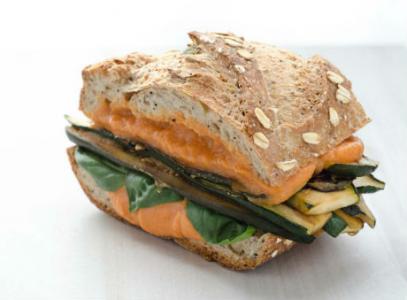 Balsamic Zucchini Sandwiches
Makes 2 servings
This quick sandwich combines the flavors of fresh zucchini sautéed in balsamic vinegar with the creaminess of roasted red pepper and cannellini bean spread.
2 zucchini, cut lengthwise into 1/2"-thick strips
4 cloves garlic, sliced
1 tablespoon balsamic vinegar
1 cup rinsed white kidney beans (cannellini beans)
1 large roasted red pepper
2 whole wheat sandwich rolls (mini baguettes or bolillo rolls)
6–8 fresh basil leaves
1/2 teaspoon freshly cracked black pepper
Over medium-high heat, sauté the zucchini strips for about 1 minute (do not overcrowd the pan). Reduce the heat to medium. Add the garlic and balsamic vinegar and stir immediately. Sauté this for about 30 seconds and remove from the heat. Puree the white beans and roasted red pepper. Toast the buns. Spread the pureed beans on the bottom bun, then add the basil, then the zucchini, and finish off with a garnish of black pepper.
Making It Simple: Instead of making the roasted red pepper and white bean spread, simply use a commercial roasted red pepper hummus.
The Gourmet Touch: Instead of sautéing the zucchini slices, toss them in the balsamic vinegar and then grill them over mesquite wood.
Per serving (1 sandwich): calories: 380; fat: 2 g; calories from fat: 5%; cholesterol: 0 mg; protein: 19 g; carbohydrates: 76 g; sugar: 11 g; fiber: 14 g; sodium: 465 mg
Recipe from Jason Wyrick found in 21-Day Weight Loss Kickstart: Boost Metabolism, Lower Cholesterol, and Dramatically Improve Your Health by Neal Barnard, M.D.
Lemon Crème
Makes 4 servings
This simply delicious crème can be used as a pudding or a topping for fruit or cake. All you need are three ingredients (you use the lemon peel and the juice) and your blender.
1 package (12.3 ounces) reduced-fat extra-firm silken tofu, crumbled
1/3 cup grade A (light) maple syrup or agave nectar
3 tablespoons fresh lemon juice
1 tablespoon grated lemon peel
Blend tofu, maple syrup or agave nectar, lemon juice, and lemon peel until very smooth in a blender or food processor (or place in a bowl and use a hand-held blender). Refrigerate in a covered container until chilled.
Variation: For Lemon-Ginger Crème, fold in 1/4 cup finely minced crystallized ginger.
Per serving (1/4 recipe): calories: 106; fat: 1 g; calories from fat: 5%; cholesterol: 0 mg; protein: 6 g; carbohydrates: 20 g; sugar: 17 g; fiber: 0.5 g; sodium: 88 mg
Recipe by Bryanna Clark Grogan found in Dr. Neal Barnard's Program for Reversing Diabetes: The Scientifically Proven System for Reversing Diabetes Without Drugs by Neal Barnard, M.D.